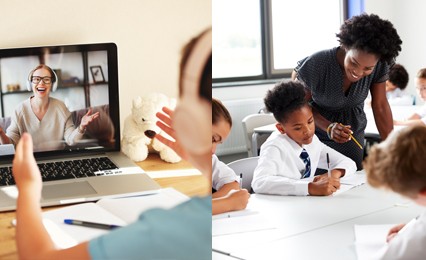 You might think that teachers and tutors are similar, but they have more differences than you think. On a daily basis, teachers are the educators of a class of up to 30 students. A tutor, however, solely focuses on a student at a time, supporting their learning in a more personal way at the students learning pace.
The role of a teacher
Educating a large class of students
To follow the national curriculum
Teach methods of working that work for the majority of the class
The role of a tutor
One-to-one or small group tutoring
Teaching techniques and strategies that suit the learning ability of the student
To tailor the tutor sessions to the individual learner
Provide help in specific subjects, projects, and exam preparations
Build the confidence of the learner by filling in any gaps in knowledge or learning techniques that the learner may be lacking
Tutors offer more flexible learning hours and methods of learning. Tutors are available for tutor sessions online, at home or in tutoring offices.
Westcountry Tuition offers one-to-one tuition face-to-face in our centres, either in Shaftesbury or Blandford Dorset. Your child can focus and thrive in a perfect learning environment with purpose-built tutoring rooms and waiting rooms for parents. Our tutor sessions can also be in the comfort of your own home, depending on availability and location either in Dorset, Wiltshire or Somerset. We can also conduct our tutoring sessions via video calls, which happens to be our most popular form of tutoring.
If you're looking for a tutor for your child, whether for a particular subject, skill or exam preparation, get in touch with us. We know how hard it can be to find the right tutor for your child's needs, who you can trust to be the right fit and can help your child reach their full potential. Give us a call, or contact us via our form here.