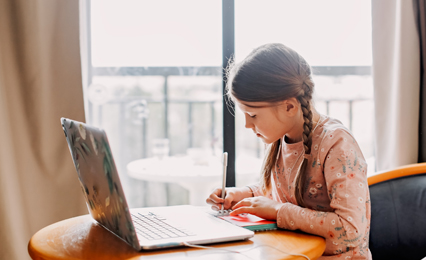 Westcountry Tuition believes a positive learning environment is essential for all learners, for all ages. When we feel safe, secure and comfortable, you'd be amazed at how much more we can learn.
Students who have found it difficult to concentrate and focus can start to engage with learning and make good progress away from distractions, hard seats, and external stresses. While many children thrive in a school or college environment, others find it less ideal. Sometimes it's not just environment that some find hard to cope with; busy timetables, problems with friends and peers, can make learning more stressful.
A student won't be able to concentrate if they feel stressed. How they see and feel about themselves, lack of confidence, and lack of motivation can be worrying for parents to watch their child go through.
Home-school tutoring has helped many students who have been victims of bullying, who find a school or college environment too much to handle. With the patience, understanding and support from a tutor, parents can be reassured that their children can regain their confidence and their self-worth and help them get back on track.
A student may be at ease with their friends in a classroom, but within their social group, participation within the school isn't cool. This can lead to them diverting their energy from learning to less constructive behaviour and becoming disinterested.
For many pupils, working one-to-one with an encouraging, supportive tutor in the safety and security of their own home or at Westcountry Tuition allows them to fully engage with learning in a way that they might not do in school. Here, they can catch up, ask questions, and work hard to please their parents and their tutor, receiving acknowledgment for the efforts (without worrying about what their friends say).
For many, the home environment is an ideal learning space, provided they have all the tools they need; books, a computer, a comfortable desk and a chair in a room with little distractions. Another alternative to a home environment is at Westcountry Tuition; its calm and relaxed atmosphere can help put your child at ease and focus on doing their best.