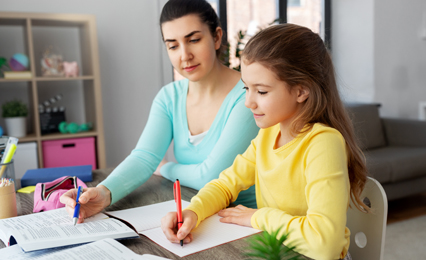 When it comes to tutoring, whether in preparation for exams or to get additional help in a subject area they are finding tricky, some children welcome the idea of tutoring positively. However, some children could feel nervous about the prospect, whilst others might think of tutoring as more homework.
Helping your child think and feel optimistic about getting tutoring can be slightly tricky.
Here are some valuable tips to help your child feel positive about tutoring.
A professional tutor can take pressure off you as the parent who may not feel equipped to help your child with challenging school work.
Tutors have a way of explaining complicated things, making schoolwork fun so that your children can have more time to spend on their extracurricular activities.
If your child's in primary school, 'fun' and 'engaging' are the most common attributes parents look for in a tutor to introduce to their child.
If your child's in secondary school, they might be more aware of their struggles in a subject area and seek a tutor themselves.
The advantage of one-to-one tutoring is that your child doesn't need to feel shy or embarrassed for not understanding and can feel confident in asking as many questions as needed.
Having an open discussion with your child about the prospect of a tutor and providing reassurance is essential to help your child feel positive about the experience and willing to work hard to reach their goals.
Ensuring the tutor you appoint is the right fit for your child will help them see the experience in a positive light.
At Westcountry Tuition, we know it can be hard to find a private tutor who you trust will be the best fit for you and your child's academic needs. Westcountry Tuition can help you find the best tutor to match your requirements. We take rigorous steps to check the suitability of all our Westcountry Tuition approved tutors, so you don't have to.  Get in touch with us and see how we can help you.